07/04/2018
At least a lucky start for the weekend. The boxed C64 is an American made Aldi! Yes, a bit yellowed, but working. The Oceanic drive is working and the box is in good condition.
The C64c is working as well, and there is a very yellowed, but working, 1541-II drive. Some software, two power cartridges, one boxed, and…a very nice Commodore bag.
Will sell the C64C, the 1541 drive, my own non-boxed Oceanic and my not-so-mint Commodore bag on Marktplaats.
Happy with this set, a well spend 110 euro I guess.
06/04/2018
110 euro. Pick up tomorrow in Zwolle. Will probably just keep the oceanic drive, commodore bag and the dust cover.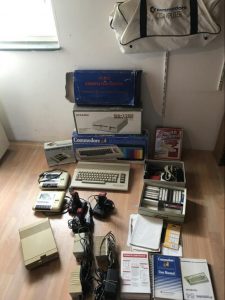 Hits: 187