02/04/2018
Went to visit Marvin in Harlingen yesterday, teaming up with Dion from Leiden which I haven't seen in a quit a while. Shopping in the retro supermarket, Marvin is operating overthere.
Behaved myself, and just got myself some small stuff…spend about 55 euro.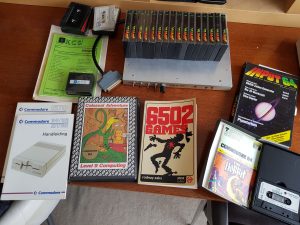 A book from Rodney Zaks, some manuals I wasn't sure if I had them already, in mint condition. Two games (The Hobbit & Colossal Adventure), KCS (P002) Speedmon boxed, a Input 64 tape collection and…..a Com-In 64 unit. Was looking for that one, had already the cartridge with the software and the manual, but the i/o board was still missing. Until yesterday.
The Com-In 64 manual and softwars was written hy Rob Maris. He was the one behind the Mac-64 as well, an oscilloscoop and voltage meter for the C64. (See my other posts). Rob probably did the hardware design for the Com-In as well.
Anyway, product made in the Netherlands, 1983 and probably only sold and used over here. The software and i/o board was used for radio communications. Will try to test it later, and make another posting about the Com-In 64.
Hits: 133