20/04/2018
Very slow collecting month! First of all due to the fact I was away for a short holiday on Rhodes. Practiced my mad photosynthesis skills! Was good to get away for a short time, will start with a new job in a few weeks.
Anyway, from Rhodes I noticed a Quickjoy SV-130, infrared joystick. Fun to add to the collection, got mine for 10 euro's, and collected today upon arrival back home.
Second, the Kickstarter project came in, book, dvd and the top trump cards "The Commodore Story". Heard different stories about the quality of the book and issues with the DVD, we will see in the next days.
Third, Dion was selling his copy of Roberto Dillon's book, Ready, A Commodore 64 Perspective. More reading food!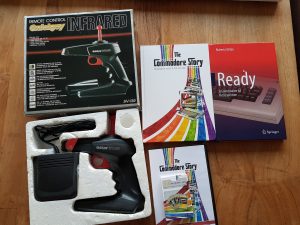 Hits: 58