I do have a list of items i would love to add to my own collection, only Commodore 64 related. I keep my collection to one item from each, so trading is mostly difficult. And I do  tend to sell duplicate items as quickly as possible, first to end discussions on the space needed for storage at home 🙂 and second to keep at least the hobby a little bit affordable! Upon getting an existing item, in better shape or boxed, will results in selling the other one!
This means that i have to pay up for constantly extending my collection and I will pay a fair amount for items I am looking for, probably not the ridiculous pricing as you can find on Ebay. If you do want the highest price and are just in it for the money, skip me and please go over there! This is still a fun hobby, and I will keep it that way.
I do prefer items boxed, complete and working. Not interested in anything which was not actually on the (European) market in those years. I have absolutely zero interest in items like the Max, Drean or Australian Commodore 64 versions, not in the Gold one or the 65…besides some of them will cost a small fortune.
Must it be mint? Nah. Good working (clean) state is perfect for something that is 30 years old. Seals? Nah. Original bill of sale, Nah. Previous been repaired, well let's discuss that one..for some items you probably don't have a choice. Sometimes you just have to accept repairs for electronic items of this age. And if they are done by someone who has some mad repair skills….it is acceptable 😉
If you can help me on these specific items, out please contact me, and let's discuss pricing and shipping!
Top searchlist at the moment:
Turbo Trans hardware speeldloader set (with ram floppy; Roßmöller);
RapiDOS (us version, based on professional dos);
Rex 9901 Turbo Extreme (cartridge, cable and kernal board C64 and 1541);
Gun Stick (Spanish light gun);
C64 and C64c Drean;
Commodore 64C, late edition, with the logo embossed in the casing (engraved logo);
A final cartridge II with the scroller on the screen says "final cartidge 2";
Final Cartridge clones;

Cabletronic VCF 280;
The Ice Machine;
Different custom made clones;
German "Medica" manuals for the FC and FC III

Boxed Final Chesscard (have one, looking for a complete boxed one);
KCS Eprommer (have one, looking for a complete boxed one);
Stack light rifle with box;  (still looking for manual and tapes);
Cat & Korsh boxes;
Any sprite and assembler software;
SSI Dungeons and Dragon games, especially the Dungeon Master Assistant vol.2.
Commodore:
Commodore 64 GS (Game System, boxed, complete);
Commodore 4064/Educator64;
Commodore 64G with dark keyboard, sealed;
Commodore 64 with factory error rainbow label;
Books:
Commodore 64 Programmer's Reference Guide (Commodore), first edition, first printing;
Commodore 64 Programmers's Reference Guide (Howard W. Sams & Company).
Manuals:
1701 & 1702 & 1801 & 1901
VC/VIC 1540 & 1541
Monitor:
Software:
Misc:
Cassette/tape of the Trojan Cad-master light pen;
Games:
Original boulder dash games (I,II, III, construction kit, both disk and tape);
Boulder Dash Lost Caves series (still looking for any edition < 8, the 12 and 14th edition);
Disk drives:
Have quite some drives in the collection, in good condition,  but not all boxed, so looking for the following drives boxed:
SFD-100 (with or without box)
VC-1541 boxed
VIC-1541 boxed
Cat & Korsh International:
They were in the early Commodore 64 years one of the larger Dutch companies and were quit successful in all kinds of hardware extensions for the C64. I remember having the Expert Cartridge of Cat & Korsh, while everyone else was having a Power Cartridge or the Final Cartridge. And just drooling over the ad's back then…all those interesting addons for the Commodore I could not afford back then!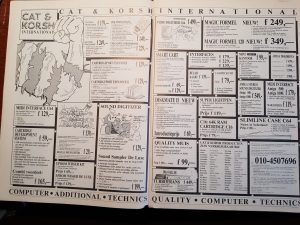 Looking for the Eprom eraser, 1MB epromboard, 32k/64k Eprom programmer, sound digitizer, light pen, digital drum system, Magic Formel cartridge, video digitizer, Diskmate II, i/o switch unit, Smart cart 8kb/32kb
Hits: 1544