14-03-2018
The collection is complete, 3 tapes with the 5 games. The Commodore itself ,manuals and boxed joystick are in a mint condition. Very nice set after all those years!
Seller told met that he got some additional offers of 125 and 150 euro for this set, but he kept the agreement with me!
10-03-2018
Just came on auction today, a very nice looking Test Pilot version with a very clean Commodore 64c. Although 2 of the 5 original game tapes are missing, i decided to call the seller and made the deal. Will pick it up Monday evening in Maarssen. It's probably not that difficult to get those two tapes, the Test Pilot collection is not quit rare, but to find one in a reasonable mint condition nowadays, you'll need some luck. Paid 100 euro.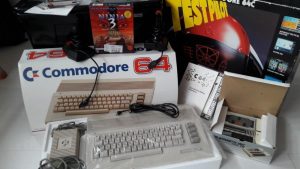 Hits: 379