27/02/2018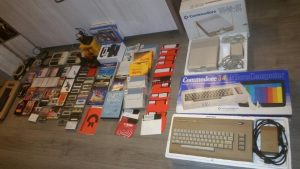 This one was still open for auction. Highest offer was 150, seller asked 200. I send him an e-mail a few weeks back to ask if he was willing to sell the Commodore Sound Expander separately, with no success.  Seems that the colored C64 used to be a 64G, needs some Retr0brighting I guess, a nice project.
He was still asking 175 euro for the set, and I agreed. A bit expensive, but a cleaned 64G will do at least 75 euro, the other C64 25 euro, the boxed 1541 will do 25-30, the Arcade Suzo boxed joystick 15. Leaving me with the software, books and the Sound Expander for 30 euro 🙂
Only thing is…he is living in Musselkanaal. And that's a two hour drive from my work..and back. Will pick up next Friday!
Hits: 43