December 2017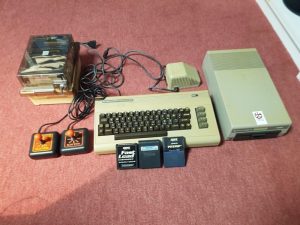 Just agreed on buying this set, primarily for the Epyx Fastload cartridge and the joysticks. Seller is Marcel, nice guy, with his own shop in second hand computers, repairs and other support. Since i had some bad luck in buying commodores lately, for which i payed a price as working ones but in the end did have problems, i decided for testing. Will meet him beginning next year, take my deadtest cartridge, gamecartridge, powersaver and monitor with me…just to be sure 🙂
For the curious ones, i paid a collectors price, 85 euro. Which is close to or a bit over for what it is actually worth. If indeed working. We will see.
I got the Epyx Fastload Reloaded cartridge at home, which i bought with my SD2IEC flashdrive (from the Future Was 8bit). Definitely a good buy.
The original cartridge was on my wishlist, preferable boxed. Saw one for an astonishing price on eBay, and i missed one for decent pricing on a Facebook offer. But at least i can add the cartridge to the collection.
Hits: 71