Since i still have about 12 non working commodore, waiting for repairs..and some of them in an awful state i decided to look into fixing yellow coloring of the cases…seems that treatment with Peroxide is the way to go! After watching quit some YouTube video's i decided that the way forward with plastic wrapping and sunlight was too much of an hassle. However the 8-bit guy did a video on YouTube in which he tested several methods of cleaning the cases..and it seems that a good working method is using Peroxide with just heat, which looked more promising and much easier.
Second thing to work out was how to Retr0Bright a complete casing at once. You need quit some space to have the upper and lower casing treated…
and Tad aah!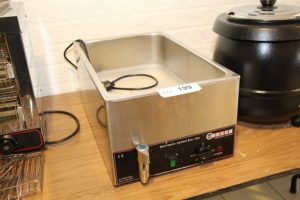 Bought at an auction last week, have to pick it up on the 29th of December.  Will start experimenting with some broken casings in January. Bought an infrared thermometer as well, as quit some 12% Peroxide.
Things to find out:
Can we mix water with the Peroxide, of should i use just the Peroxide
Will the casings evenly be cleaned
Can I, and how many times, reuse the Peroxide solution
How to keep the casings below the surface without creating how spots which are less clean
Will the temperature be at a steady 70 degrees Celsius
What duration is best, the stated 4hr?
I think the best English translation is a Chafing Dish? Bought it for 80 euro's.
anyway, followup posting as soon as i find the time for the experiments.
Frank
Hits: 127